Your ability to manifest the abundance you crave and to feel 100% on fire starts with cultivating your feminine power an sensual energy. As a life coach, I want to help you recognize beautiful, spiritual moments in life and improve your confidence with feminine power.
---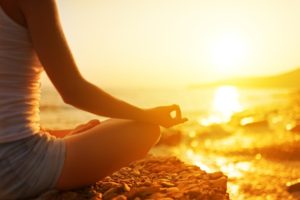 It was a beautiful sunrise. The kind of sunrise you feel deep in your bones, like everything is right in the world. It's such a gift because you can't plan to be in the exact right place at the exact right time and so I am always in deep appreciation for perfect timing when I'm witness to such a spiritual sight.
On this summer morning I had gotten my granddaughter out of bed early and we rode our bikes to the lake. She was riding my orange cruiser, complete with a flower basket on the front, and I'd made us breakfast sandwiches to eat at the lake. Being ten, she had no qualms about riding to the lake in her swimsuit, and in fact, she was rather insistent upon it.
"Grandma, I want to get right in the water when we get there!"
I had my yoga mat on my back and a thermos of coffee on my bike. We were both set for a great, successful morning.
After we parked our bikes on the sand, I got out my mat and my granddaughter got in the water. I joined her and we were up to our necks in cold lake water as the sun came over the horizon. Simply incredible. As a woman in business, I was really appreciative that I could plan my day around a sunrise swim with my granddaughter.
After we played in the water, I was ready for yoga. I settled on my mat and began my spiritual practice, toes at the edge of the water, stretching up to the cloudless sky.   Yes. . . soooo good.
"Grandma!"
"Yes, baby"
"Do you know what we need?"   Silence so grandma can finish her pose?
"No, love, tell me. What do we need?"
"We need some goggles! The water is too cold to keep my eyes open. It's too cold for my eyeballs."
Ah yes, goggles. That would be perfect.  "Okay, let's see if we can find some when we get back to my house".
And a nice deep forward bend, exhaling. She was happy with this response, at least for the moment, and swam away.
As I came back into standing position, I took in the scene – the beach, sunrise, yoga, my granddaughter, and I was filled with such love and awe for that moment. If my feelings had been visible, it would have looked like a rising balloon expanding to encompass the entire beach. I closed my eyes to savor the spiritual moment and then opened them as I took a forward bend.
There in front of me, in the sand, what was that? It had washed up to the edge of my mat when my eyes were closed. Leaning forward I pulled a child sized pair of goggles out of the water. Wait, what??
"Hey love, will these work?"
"Grandma, did you bring these?"
"No, they washed up on the beach, they must be just for you!"  Yeah, I pulled them out of thin air for you, but who's counting. Wow, talk about manifesting!
Her squeal of delight made me laugh out loud. As we rode home, it really sunk in that the goggles had shown up in direct response to the rules of attraction and manifestation. But the principles at work were some of the lesser known points. After studying the rules of attraction for decades, I had dialed in the "how-to" of attraction for powerful women. As a woman in business, I felt it was a competitive advantage to understand and apply these principles in the how to make money a conversation.
As I contemplated the experience, I had new insights and understanding about some of the "missing links" of manifesting and I thought you might want to know what these missing links were all about. Briefly:
1. Feelings create a magnetic field
2. Feelings are broadcast on the earth's magnetic field also known as gravity
3. The universe interacts with us through feelings
4. Energy responds to feelings, not words
5. Sensual energy is incredibly potent
6. Women hold energy in the feminine power center (part of the second chakra)
7. Feminine energy moves upward to manifest, not down
8. Appreciation and savoring build a charge of energy
9. Releasing that charge with a single intention in mind is like releasing a lightning strike
10. The mindset of "no-expectation" produces a super quick result
If you'd like to work with these feminine power links more in depth, perhaps we should have a conversation. I love working as a life coach, and we can work together to improve your confidence and spiritual life.
---
Dawn Todd is the founder of Wildly Successful Women, a business networking Meetup Group of 6,000+ women owned businesses and women entrepreneurs, and the Go-To Authority on Manifesting Money, Prosperity and Business Success.
With over twenty-five years as an energy medicine teacher and practitioner and ten years as an author, speaker and Executive & Business Coach and Consultant, Dawn brings a deep understanding of sacred feminine energy, prosperity consciousness and intention alongside grounded business practices.
Dawn's stellar list of partners have included Microsoft, American Express, Napoleon Hill Foundation, Daniels College of Business, COUNTRY Insurance, Rockies Venture Club, Angel Capital Summit, eWomenNetwork, WomanScope News and Constant Contact and has recently been invited to be an expert contributor for The Huffington Post.